ForeRunner Labs Alpha Mass - Potent DHEA Analog
When Forerunner Labs™ set out to find the most effective muscle builder legally available it was without a doubt 1-DHEA, the powerful 1-Testosterone prohormone.
Still we needed to make it the best prohormone on the market. It certainly has its weaknesses in its standard form (plain ole 1-DHEA). And to reinvent an already great prohormone we had to do something extreme. So what did we create? Introducing Ultra 1-DHEA:

Ultra 1-DHEA is the powerhouse of Alpha Mass. It leads to lean muscle gains, and explosive strength. Ultra 1-DHEA accomplishes this by increasing lymphatic absorption which results in a biological effect that is over 80% greater than standard 1-DHEA!
But ForeRunner Labs™ didn't stop there…
We could have stopped right there and been happy with the product. But why not make it even better? Knowing that even lymphatic absorption is limited to approximately 5-15%, that still leaves a lot of 1-DHEA unprotected from the dreaded first pass metabolism.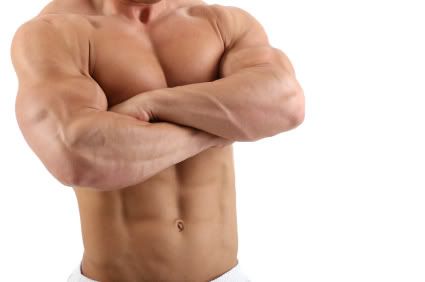 How did we get around this problem?
Easy! We used one very well known natural supplement (berberine) and another lesser well known daddy of berberine (rhizoma coptidis) to decrease the enzymes that break down 1-DHEA that render it useless. These two have been shown to increase the bioavailability of other compounds 19% or greater!
Icing on the cake: to top it all off ForeRunner Labs™ added a powerful element known as cobalt. Cobalt not only decreases the enzymes that break down 1-DHEA (increasing bioavailability), but it also dramatically increases the oxygen supply to your muscles so you can train harder and longer!
Putting it all together...
Finally we wanted to ensure the Ultra 1-DHEA is stable once it reaches its intended environment (your digestive system). To do this we used a liquid cap containing a Hormone Carrier Matrix™ that optimizes the delivery of Ultra 1-DHEA. There is MORE! By creating Ultra 1-DHEA we still avoid losing any of the benefits of the previous versions of 1-DHEA. This includes no conversion to DHT or estrogen. And we give you 168 liquid caps per bottle so you can dose it as you see fit and stack it with any other prohormones you love.
Forerunner Labs Alpha Bulk
What is Alpha Bulk™
A powerful naturally occurring (dietary ingredient) metabolite of DHEA ester blended in a fat-soluble liquid oil Hormone Carrier Matrix™ and accompanied by a breakthrough Hormone Shield™ (negative enzymatic conversion blocker), that all makes up the strongest, most biologically available, solid mass accelerating anabolic compound available.
What is the Hormone Carrier Matrix™
It's the special proprietary fat-soluble liquid oil delivery matrix that enables the powerful 3b-enanthoxyandrost-4-en-17-one hormonal metabolite to bypass the destructive metabolic properties of the liver and reaches its target Lymphatic System. We found that attaching a fatty ester molecule to the hormonal metabolite enables it to completely bypass first pass (liver metabolism) and travel to the Lymphatic System – where it then disperses in to the bloodstream, binds to the androgen receptors and creates the "Explosive Anabolic Effect"
What is the Hormone Shield™
The proprietary Hormone Shield™ is a blend of powerful esterase inhibitors that help to derail any negative and wasteful enzymatic hormonal conversions, sparing more of the total active hormone for the coveted Testosterone conversion.
Why are Liquid Oral Capsules Superior to Common Oral Capsules
Alpha Bulk'™ liquid oral capsule delivers 70% bioavailability of the active hormone while oral capsule bioavailability is a mere 1.5%. This means that a 200 mg capsule of 3b-enanthoxyandrost-4-en-17-one would only deliver 3 biologically active milligrams. Conversely, a 20 mg Alpha Bulk™ tablet delivers 14 biologically active milligrams. The differential is gigantic.
How Does Alpha Bulk™ Work
With its superior bioavailability and absorption, Alpha Bulk' Hormone Carrier Matrix™ helps to deliver the active Alpha Bulk Ultra 4-DHEA ester hormone (3b-enanthoxyandrost-4-en-17-one) to the skeletal muscle tissue where enzymes convert 3b-enanthoxyandrost-4-en-17-one via a 2-step conversion pathway to the target hormone Testosterone. The "Explosive Anabolic Effect" follows which may induce strength and lean mass gains.
What Makes Alpha Bulk™ so Powerful & Unique
There is literally no other true PROHORMONE in the muscle building supplement category on the market that utilizes a fatty-oil based liquid capsule to maximize bioavailability like Alpha Bulk does. The active 3b-enanthoxyandrost-4-en-17-one molecule is a patented compound, making it the most unique and potent solid mass building supplement legally available.
Why Should I buy Alpha Bulk™
Simply put – There is no other true muscle building supplement on the market that can deliver bodybuilders and athletes safe, effective, efficient and REAL results like Alpha Bulk™ can.
What is the Best Way to Use Alpha Bulk™ in Conjunction with other Forerunner Labs Products?
For absolute maximum strength & weight gains – Alpha Bulk™ & Alpha Mass™ should be stacked together to synergistically deliver the most intense and prolonged gains humanly imaginable. The "wet" Alpha Bulk™ Ultra 4-DHEA molecule converts to Testosterone and almost perfectly stacks with the "dry" 1-Testosterone hormone of Alpha Mass' Ultra 1-DHEA hormone by combining and therefore amplifying the explosive qualities of each.
ForeRunner Labs Reboot
What is ReBoot™
ReBoot™ is the first of its kind complete, 4-stage PCT supplement that literally reboots your body's chemical equilibrium after a cycle of exogenous anabolic hormones have created what is known as "negative feedback". ReBoot's primary goal is to restore a man's chemical equilibrium that is ideal for newly acquired muscle mass results from an anabolic hormone cycle.
What is the Estrocide Complex™
It's a blend of two (2) very unique and different compounds that help to derail unwanted estrogen spillover/production during a prohormone cycle. Indole-3-carbinol, found at high levels in cruciferous vegetables – may help to metabolize estrogen more efficiently in men.
Androst-3, 5-dien-7, 17-dione shows an elaborate array of promise as a non-suppressive, DSHEA-compliant DHEA metabolite, coaxing the male metabolism in to a more myotropic state. Although studies show positive effects on testosterone to cortisol ratios, decreased fat storage and increased libido – the goal of Androst-3, 5-dien-7, 17-dione in ReBoot is to positively effect the testosterone to estrogen ratio because it derails unwanted estrogen production (aromatase inhibitor) from previous prohormone cycles without shutting down natural testosterone production.
What is the Cortisolvent™
Cortisolvent™ is a dual-component approach to eradicating elevated cortisol hormone levels as a result of an anabolic hormone cycle. Elevated cortisol levels are known catabolic agents that destroy newly formed muscle mass.
What is the Testosterone Elevator™
ReBoot's Testosterone Elevator™ is a full daily dose of -D-Aspartic Acid, an essential and proven ingredient to stimulate testosterone production after the harmful effects of "negative feedback", which is responsible for near complete shutdown.
What is Immuno Support-X™
Immuno Support-X™ is a much needed, dual-ingredient complex that strengthens the body's immune system, ravaged by temporarily dipping testosterone levels, following an anabolic hormone cycle. If not addressed – you are much more susceptible to common illnesses.
How Does ReBoot™ Work
ReBoot's sole purpose is to restore the body's natural chemical equilibrium by reversing the following four (4) culprits responsible for "negative feedback":
• Increased estrogen
• Increased cortisol
• Decreased testosterone
• Decreased immune system
What Makes ReBoot™ so Powerful & Unique
No other PCT product on the market completely addresses the four (4) most menacing side effects of a completed anabolic hormone cycle:
• Increased estrogen
• Increased cortisol
• Decreased testosterone
• Decreased immune system
Why Should I buy ReBoot™
Although a cycle of exogenous anabolic hormones creates increased muscle mass – our obvious and paramount goal, our body also adjusts to the supplement cycle by increasing estrogen & cortisol hormones and almost completely shuts down natural production of testosterone. And if that weren't enough to deal with – once your natural testosterone levels drop, your immune system weakens. ReBoot's incredible formula helps to reverse these four (4) menacing side effects with its unique formula:
• Estrocide Complex™ - dual ingredient approach to terminate unwanted estrogen spillover
• Cortisolvent™ - Dual DHEA metabolites that execute the negative steroid hormone cortisol that is responsible for catabolizing new muscle mass and inviting unwanted fat cells to the environment.
• Testosterone Elevator™- Proven testosterone elevating amino acid.
• Immuno Support-X™- Dual amino acid complex that stabilizes the immune system during a dip in testosterone production from an anabolic hormone cycle.
What is the Best Way to Use ReBoot™ in Conjunction with other Forerunner Labs Products?
For the quickest recovery from an anabolic hormone cycle, ReBoot should be taken directly after the finish of a cycle of Alpha Mass, Alpha Bulk or a combo stack of both. ReBoot should be taken for a 30-day period.
PHF Supplements is the best store to buy ForeRunner Labs Alpha Lab Kit!