On/Off Super Cycle - Alpha Mass + 2 Arom-X RD!
ForeRunner Labs Alpha Mass - Potent DHEA Analog
When Forerunner Labs™ set out to find the most effective muscle builder legally available it was without a doubt 1-DHEA, the powerful 1-Testosterone prohormone.
Still we needed to make it the best prohormone on the market. It certainly has its weaknesses in its standard form (plain ole 1-DHEA). And to reinvent an already great prohormone we had to do something extreme. So what did we create? Introducing Ultra 1-DHEA:

Ultra 1-DHEA is the powerhouse of Alpha Mass. It leads to lean muscle gains, and explosive strength. Ultra 1-DHEA accomplishes this by increasing lymphatic absorption which results in a biological effect that is over 80% greater than standard 1-DHEA!
But ForeRunner Labs™ didn't stop there…
We could have stopped right there and been happy with the product. But why not make it even better? Knowing that even lymphatic absorption is limited to approximately 5-15%, that still leaves a lot of 1-DHEA unprotected from the dreaded first pass metabolism.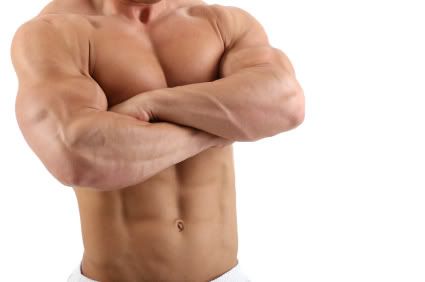 How did we get around this problem?
Easy! We used one very well known natural supplement (berberine) and another lesser well known daddy of berberine (rhizoma coptidis) to decrease the enzymes that break down 1-DHEA that render it useless. These two have been shown to increase the bioavailability of other compounds 19% or greater!
Icing on the cake: to top it all off ForeRunner Labs™ added a powerful element known as cobalt. Cobalt not only decreases the enzymes that break down 1-DHEA (increasing bioavailability), but it also dramatically increases the oxygen supply to your muscles so you can train harder and longer!
Putting it all together...
Finally we wanted to ensure the Ultra 1-DHEA is stable once it reaches its intended environment (your digestive system). To do this we used a liquid cap containing a Hormone Carrier Matrix™ that optimizes the delivery of Ultra 1-DHEA. There is MORE! By creating Ultra 1-DHEA we still avoid losing any of the benefits of the previous versions of 1-DHEA. This includes no conversion to DHT or estrogen. And we give you 168 liquid caps per bottle so you can dose it as you see fit and stack it with any other prohormones you love.
PHF Supplements is the best store to buy Forerunner Labs Alpha Mass!
AMS Arom-X RD™ – Rapid Dissolve Testosterone Booster
ALERT – In addition to Arom-X™ Liquid, this powerful new formula comes in a rapid dissolve (RD™) orally disintegrating tablet. The RD™ tablet delivers the same ultra-efficient dose of the active compounds in a super-fast disintegrating formula designed for ease of use, travel and personal preference.
Read this before you purchase another testosterone booster!
Estrogen is an important hormone for women. But for men – especially those looking to build strong, dense mass – is often times a dreaded word. While estrogen certainly has its uses, the overabundance in men can cause some seriously undesirable effects. Some of those include; a smooth look, bloating/water weight gain and even increased fat. All in all, too much estrogen undoubtedly will make you look puffy and fat. More importantly though, estrogen is also one component of the "NEGATIVE FEEDBACK LOOP" that tells the body to stop making testosterone. Yep – you heard that right. Too much estrogen can actually reduce your bodies' testosterone output. Shockingly scary for us testosterone loving freaks!! Conversely – the body will produce more testosterone when you block estrogen. In a nutshell, when estrogen levels are low, the body thinks it needs to ramp up luteinizing hormone and subsequently testosterone production. Vice versa when estrogen levels are high, it tells the body to hold up on T-production.
Arom-X RD™ contains three powerful and unique ingredients, which have been shown in scientific literature to effect estrogen production, and may increase testosterone by doing so. We didn't throw a whole bunch of ingredients on the table and hope some of them would deliver. Instead, careful thought and planning went behind the choice of these ingredients to deliver the most effective formula we could design. Included in that planning was how to use the best delivery method for this unique blend. Tablets and powders oftentimes are the best choice of delivery. Yes, they are common and everyone uses them but does that make them the best choice? You know the answer. Arom-X RD™'s test boosting trifecta is complexed into a unique oral delivery called "rapid dissolve". The specific active chemical vector is Hydroxypropyl Beta Cyclodextrin (HPBCD). HPBC forms stable aqueous complexes like Arom-X RD™, enabling hydrophobic molecules to penetrate body tissue. RD™ is such a unique delivery system because it encapsulates the active molecular compound in a way that prolongs residence in the bloodstream, enhances intracellular penetration and preserves the active molecule until it reaches its desired location in the body. In order to utilize the RD™ delivery system effectively, Arom-X RD™ only contains pure grade actives compounds of the highest quality. 90% active compound purity and higher is a standard for AMS.
Enough talk – let's get into the product.
Ellagic Acid – Ellagic acid is a plant-derived polyphenol. It is known to possess very potent antioxidant activity. A study set out in 2005 seeking to determine whether or not it possessed estrogenic/anti-estrogenic activity. (Papoutsi Z et al 2005) The findings from the study suggest ellagic acid may be a natural selective estrogen receptor modulator (SERM). SERM products can work in several ways. Applicable to Arom-X RD™: it has the potential to block estrogen at the receptors. By doing so, is in essence like telling your body to make more testosterone by stimulating LH production. It may also block the effects of estrogen and/or interfere with estrogen metabolizing enzymes at the cellular level. Once ellagic acid is ingested, some may potentially be converted to 3,8-dihydroxy-6H-dibenzo[b,d]pyran-6-one derivatives by gut microflora. (Adams LS et al 2010). These derivates are thought to be highly active and many possess anti-aromatase activity.
Resveratrol – Resveratrol is a well known compound originally identified in red wine. It is well known by many specifically for its properties on anti-aging. Recent data though has turned our eyes towards its potential to both decrease estrogen and enhance testosterone levels. It may do this in two ways. First, it may be a potent anti-aromatase, meaning it may actually help to block the enzyme that converts testosterone to estrogen. In studies, resveratrol has been shown to repress the transcription of genes that encode for aromatase. At the same time, it is both a competitive and noncompetitive inhibitor of aromotase with potent properties. It is also a natural estrogen blocker – potentially binding to the receptors and inhibiting its activity. By blocking estrogen the body in turn produce more luteinizing hormone and testosterone. One of the most notable studies on resveratrol came out of Korea. The study was broken into two parts – in-vivo and ex-vivo. Here researchers concluded, " In conclusion, we propose that resveratrol has a positive effect on male reproductive function by triggering a penile erection, as well as enhancing blood testosterone levels, testicular sperm count and epididymal sperm motility."
7,8 Benzoflavone – The most potent aromatase inhibitors are Letrozole and Arimidex. Luckily 7,8 Benzoflavone is a natural Passiflora extract that may provide similar aromatase inhibition as these prescription products, by reducing
the conversion from testosterone to estrogen. One such study showed out of a group of compounds, 7,8 benzoflavone is the most potent in inhibiting the aromatization of androstenedione to estrogen. 7,8 Benzoflavone has the ability to cross the blood brain barrier completely intact and help block the suppression of Gonadotropin Releasing Hormone (GnRH) through its interaction with the GABAergic receptor complex. The GABAergic receptor complex is a prime target because allowing for increased GnRH is key to elevated testosterone levels. In addition, other research has shown 7,8 Benzoflavone to enhance the body's clearance of estrogenic hormones by inducing 2-hydroxylation of these hormones.
These three unique ingredients are delivered via our Hydropropyl Beta Cyclodextrin (HPBC) based rapid dissolve (RD) tablets to help enhance the delivery and absorption of the compounds while at the same time helping to prevent their degradation. This breakthrough product contains a simple, yet ultra-effective approach to maximizing natural testosterone levels and ridding the body of unwanted estrogen.
References:
Papoutsi Z, Kassi E, Tsiapara A et al. Evaluation of estrogenic/antiestrogenic activity of ellagic acid via the estrogen receptor subtypes ERalpha and ERbeta. J Agric Food Chem 2005 Oct 5;53(20):7715-20.
Aiver HS, Gupta RC. Berries and ellagic acid prevent estrogen-induced mammary tumorigenesis by modulating enzymes of estrogen metabolism. Cancer Prev Res (PhilaPA) 2010 Jun;3(6):727-37. Epub 2010 May 25.
Adams LS, Zhang Y, Seeram NP et al. Pomegranate ellagitannin-derived compounds exhibit antiproliferative and antiaromatase activity in breast cancer cells in vitro. Cancer Prev Res (PhilaPA) 2010 Jan;3(1):108-13.
S, Jeon JH, Park D, Jang MJ, Choi JH, Choi BH, Joo SS, Nahm SS, Kim JC, Kim YB. Trans-Resveratrol relaxes the corpus cavernosum ex vivo and enhances testosterone levels and sperm quality in vivo. College of Veterinary
Medicine, Chungbuk National University, Heungdeok-gu, Cheongju, Chungbuk 361-763, Korea. Arch Pharm Res. 2008 Jan;31(1):83-7.
Bhat KP, et al. "Estrogenic and antiestrogenic properties of resveratrol in mammary tumor models." Cancer Res. 2001 Oct 15;61(20):7456-63.
Henry LA, Witt DM. "Resveratrol: phytoestrogen effects on reproductive physiology and behavior in female rats." Horm Behav. 2002 Mar;41(2):220-8.
Bowers JL, et al. "Resveratrol acts as a mixed agonist/antagonist for estrogen receptors alpha and beta." Endocrinology. 2000 Oct;141(10):3657-67.
Lu R, Serrero G. "Resveratrol, a natural product derived from grape, exhibits antiestrogenic activity and inhibits the growth of human breast cancer cells." J Cell Physiol. 1999 Jun;179(3):297-304.
Turner RT, et al. "Is resveratrol an estrogen agonist in growing rats?" Endocrinology. 1999 Jan;140(1):50-4.
Bhat KP, Pezzuto JM. "Resveratrol exhibits cytostatic and antiestrogenic properties with human endometrial adenocarcinoma (Ishikawa) cells." Cancer Res. 2001 Aug 15;61(16):6137-44.
Wang Y, et al. "The Red Wine Polyphenol Resveratrol Displays BI-Level Inhibition on Aromatase in Breast Cancer Cells." Toxicol Sci. 2006 Apr 11
Dhawan K, Dhawan S, Sharma A Passiflora: a review update. J Ethnopharmacol. 2004 Sep;94(1):1-23. Review.
GE Schwab, JL Raucy and EF Johnson Modulation of rabbit and human hepatic cytochrome P-450-catalyzed steroid hydroxylations by alpha-naphthoflavone Volume 33, Issue 5, pp. 493-499, 05/01/1988
M Rahman, C Hayes
Sutter, GL Emmert, and TR Sutter Regioselective 2-hydroxylation of 17beta-estradiol by rat cytochrome P4501B1.Toxicol Appl Pharmacol, November 1, 2006; 216(3): 469-78
Kellis JT, Vickery LE. Inhibition of human estrogen synthetase (aromatase) by flavones Pharm Sci 97:4546-4556, 2008 Science, Vol 225, Issue 4666, 1032-1034 F Wang, M Shing, Y Huen, SY Tsang, and H Xue Neuroactive
flavonoids interacting with GABAA receptor complex. Curr Drug Targets CNS Neurol Disord, Oct 2005; 4(5): 575-85.
PHF Supplements is the best store to buy AMS Arom-X RD!